Issued Date: January 2008
Newspaper Agency: The Avenue Newspaper
Headline: SPECIAL TO THE BRIDAL GUIDE '08
Story Contributed by: Amy Lingenfelder
Local Coverage: Baltimore, Maryland USA
SPECIAL TO THE BRIDAL GUIDE
Selecting a photographer to document one of the most special days of your life is possibly the most important wedding planning decision you'll make. Your experience with the wedding photographer is perhaps the most intimate of all the wedding vendors you hire. Remember you are entrusting this person to immortalize you in still images that will be passed down from generation to generation. Therefore, the best way to have a memorable and joyous photographic experience is to invest in a photographer whose work, personality and commitment meet your needs.
When looking for a wedding photographer, start early and decide how important having great photographs of your special day is to you. This will help determine how much you should spend on your wedding photography. Sadly, many couples do not consider this ahead of time and try to cut costs on their photography only to realize after the wedding how important the photographs are to them. Depending on the type of coverage or package you choose, photography can range from under $1000 to as much as $4000+ with the majority of packages (including time, albums, etc.) around $2000-$3000.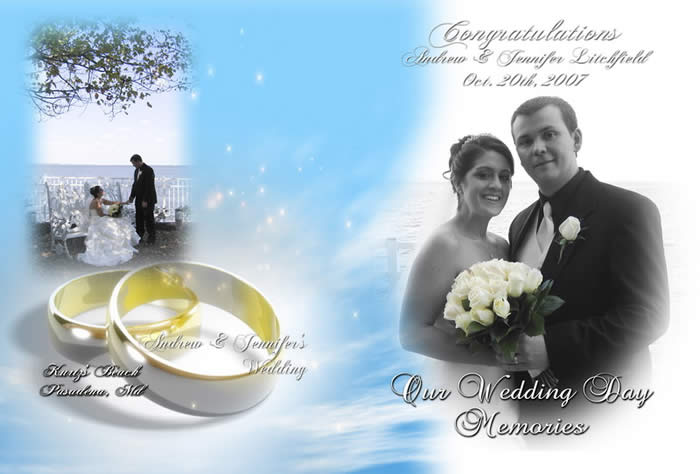 Photo by: Honeygo Studio
For help with deciding on a wedding photographer, here are some important things to look for:
• EXPERIENCE: Be sure to hire a photographer who has been in the business a while and one who can offer you professional service and quality products (prints and albums). Today there are two types of photographers; those who are true professionals whose business is solely wedding photography and there are those who do this as a hobby or just a weekend job.
Weddings are very unpredictable and wedding photography experience will best allow for one to adjust to: hanging conditions and insure the best images possible. Also, a professional photographer will not be doing your prints at a one hour printer. They send your images out to a professional printing house. If you hold the same image printed from each, you will see a definite difference. In addition, there are inexpensive wedding book makers and: here are professional level wedding book makers. While the commercial printers and top level wedding album maker are expensive, remember that you get what you pay for. To be on the safe side, look for a photographer with a full service studio where everything from the photo editing to the assembly of the album is done in house.
• PERSONALITY: Meeting with your photographer beforehand and developing a positive relationship with him/ her is crucial. This way you can gauge the type of person you are hiring and be sure that you will work together well. A good photographer will be fun, confident and personable. Remember that this person will not only be interacting with you throughout your entire wedding day but they will also be interacting with your family, bridal party and guests. Discuss packages with your photographer
• PORTFOLIO: When you meet with a photographer, be sure that they have a wide variety of sample photos to show you. Ask to see samples of complete weddings or better yet, an actual proof book from a recent wedding so that you can know exactly what to expect. Also, ask to see samples of the various types and style of albums that they offer. When looking through the photos, take note of the photographer's style to see if it matches your particular style and taste.
• STYLE: Today, more and more brides are concerned with a photographer who offers "photojournalistic" style photography where images are candid and not so posed. Remember that while the days of the police lineup bridal party portrait are gone, that doesn't mean you won't want formal photos of your closest friends and family decked out in their finest. Though the candid style continues to gain steam and shows no signs of stopping, you still need some basic formal shots for "family historical purposes." Be sure to consider this when meeting with your photographer and look for a good mix of the "traditional" and "photojournalistic" style in their work.
• ALL INCLUSIVE PACKAGES: It is important that you be sure of what exactly is included in your photography coverage. While most photographers offer all inclusive packages, some do not price their services, prints and albums "a la carte" (this can become quite pricey). An example of an all inclusive package would include: an engagement portrait session (and prints), the photographer and his time for the day, a complete proof book of all of your images, and a completed bridal album all for one price. Some packages may also include extras such as a CD with all of your digital images, loose prints, parent albums, online viewing and ordering for family and friends, DVD Slideshows, Folios, Signature Frames, 1st Anniversary portraits and more!
On the topic of wedding packages and albums, do your research ahead of time to determine what type of album you will want (this will also help to determine your budget) as the options are endless. The style of bridal albums today ranges from the "traditional" classic matted style albums which
Include multiple sized photos whose edges are hidden by the frame of the mat. These albums are generally very sturdy and endure age and use quite well but are often large and bulky compared to the more modem albums. The modem album options include the "flush mount" or "coffee-table" style albums where photos are all one size and mounted or adhered directly to the page. These albums come in various sizes and are generally more compact than the "traditional" albums while at the same time display many more photos. There are a variety of cover options for these albums which include genuine or faux leather, canvas, fabric, acrylic, or book style photo covers. The layout of your photos inside of the-album is much more contemporary as well, with each print generally becoming a composite of multiple images from your day.
These modem album options have become increasingly popular due to the increase in digital photography over the past few years. Film is now becoming a thing of the past as the advantages of digital photography continue to increase. Some advantages of digital photography include:
• The ability for a photographer to see his images right away versus having to wait a few days to have the film processed in the lab.
• The ability to adapt to various light situations on the fly versus having to change the film to match the lighting with some time and research your wedding day.
• The ability to take an unlimited number of photographs versus having to limit yourself to a particular number of rolls of film to stay in budget.
• The ability to make any color photograph sepia, black and white, or a combination of color and black and white. Also, the ability to color correct, touch up or apply special effects to an image with ease.
Digital Photography has not only changed the style of albums available, it has also changed the way proofing of wedding photos is done. In the past, proofs were printed as loose 4x5 sized photos from negatives, often with the word "PROOF" stamped across the photo in ink and delivered to you in multiple bulky proof albums with order sheets to
Make the selections for your album. Today, proofs can be delivered to you in many ways with one of the most popular being a small proof "magazine" with multiple images per page. This allows for easy transport and ordering and makes a great keepsake of all of the images of your special day. "Online Proofing" has also become very popular. This is where all of the photos from your wedding day are posted to a password protected site so that you, family and friends can view and even order photos without ever leaving your computer!
With some time and research, you should have a good idea of what you are looking for and want from a wedding photographer before you begin to start interviewing them. Remember that choosing a wedding photographer is one of the most important wedding planning decisions you will make and it is important to start early as the best and most will be picture perfect.
An experienced wedding photographer's book prime date as far is a year in advance.
*For information on wedding photography services or to discuss the full service with the photographer, please call 410-335-4816.
Honeygo Photo & Video Studio
12536 Eastern Avenue
Baltimore, Md. 21220.
Tel: (410) 335-4816
Website:
http://honeygostudio.com/photo/index.html
Stop by Merle Norman/Honeygo Studio at 12536 Eastern Avenue Extended, just 4 miles east from the new Md 43, or call 410.335.4816. They are open Mon thru Sat. 10-9 and Sun 11-5.
Photo by: Honeygo Studio and article to publish permission authorized by Beth Ritter , email us at: britter@chespub.com